I think this article is a must read – http://news.bbc.co.uk/2/hi/technology/8590306.stm
At the F8 conference in San Francisco, Mark Zuckerberg unveiled a number of products he says are aimed at putting users and their friends at the "centre of the web". It will surely work on the further unseating of Google being the site or service synonymous with internet usage and the webs most used or visited service.
"One of the points Mr Zuckerberg was making was that the web has become a lot less anonymous and Facebook is definitely positioning itself as wanting to be the owner of that information," said Maya Baratz of the Huffington Post. (Given Facebook's growing and highly influential size the Huffington Post online publication has dedicated a whole section of its site to news surrounding Facebook which you can read by clicking here.)
Zuckerberg told developers at the f8 conference that the experience will mean a more personalized, social, smarter Web. As quoted from an another article on Huffington Post "Facebook is spreading its wings to the broader Web with new tools that will allow users to see personalized versions of websites they visit elsewhere.
The move could change the way people experience the online world, though it could come with deeper privacy implications. By accessing Facebook's tools, websites will be able to customize the experience based on the list of friends, favorite bands and other things users have shared on their Facebook profiles.

"The Web is at a really important turning point now," Facebook CEO Mark Zuckerberg said at the F8 conference for Web and software developers in San Francisco. "Most things aren't social and they don't use your real identity. This is really starting to change."
In its first steps Facebook has changed the semantics surrounding fans "people who like this" – has replaced the former term of "fans." Facebook has added these new features to its site,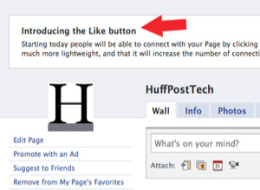 If you haven't noticed these changes in the past few days take look.
In conjunction with this step it also launched the concept of what it calls Community pages. The concept of Community pages is to revamp users' profiles to emphasize the pages for bands, books and businesses that users have become fans of. Facebook has started prompting users to essentially combine the two ( a users "Faned" page , and their profile page ) So if you listed The Clash in the "favorite music" section of your profile, Facebook will now ask you to join his page, if you haven't become a fan of it already.
Facebook has also announced its working to eliminate the FB Connect 'brand and replacing it with OAUTH – OAuth (Open Authorization) is an open standard that allows users to share their private resources (e.g. photos, videos, contact lists) stored on one site with another site without having to hand out their username and password.
Its also working on projects such as social plugins whch they call GDP (granular data permissions) and continuing to work on user privacy settings.
Zuckerberg said Facebook made sure that its new tools don't intrude on their privacy. Users' preferences won't be logged unless they choose to press the "like" button on websites. If anything, Zuckerberg expects the "like" tools to give people more control over what they want to share with their online entourages.
If users embrace it, Facebook could gain valuable insights that could help it sell more advertising, potentially rivaling online ad leader Google Inc., which typically tailors ads based on keywords in search terms and Web content.
"If I were Google I would be really scared because Facebook might end up with a lot more intelligence than them," said Alain Chuard, Founder of social marketing firm Wildfire. "Google is just an algorithm, but Facebook could rule the Web."
So there's obviously and lot more planned for the near future as the battle for social dominance increases. I wonder what Google will do now since its Buzz launch looks like a knee jerk re action to Facebook's growing importance and it incremental loses in market share of audience time and visitation online?
Tags:
convergence
,
convergence culture
,
Facebook
,
marketing 2.0
,
social media
,
web 2.0