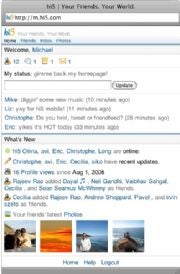 You may not know it but Hi5 is the third largest social network in the world  polling into position behind Facebook and MySpace.  What make its different from the other two is clearly its audience. It has around 60 million  unique visitors  per month , 40% of whom come from Spanish speaking countries. This makes it the largest Latin American or Hispanic social network . While virtually unheard of in the United States the UK or some of Europe  there are reasons to believe that this could change.  The key information to be aware of  is that more and more people in the U.S. are discovering the site, a trend line that will likely keep bending upward in the next 12 months. What would be interesting to track is whether this  new US  based  audience is  ethnically and demographically  the young Hispanic and creates a parallel spanish speaking social network the covers the Americas and Spain . As of mid-2007 the Hispanic community  in the US, the largest  minority group , accounted for 15.1% of the total U.S. population and also since 2000  have accounted for more than half (50.5%) of the overall population growth in the United States 
Hi5′ s music and video applications rival those of other, more popular social networks, and Hi5′s mobile app is first rate.
Hi5 won't be bigger than Facebook  by the end of the year, but it will have grown significantly, and it will have given many people  an attractive alternative to try out
What will be interesting to observe in the near future is whether the identities of one social network can or will be able cross register with the other using the concept of Open ID.
Tags:
consumer engagement
,
consumer trends
,
content
,
hispanic
,
latin america
,
mobile
,
Social Media Marketing
,
social networks
,
SSM